MP Angus MacNeil's oil question 'stupid' says Cameron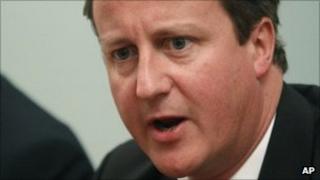 An MP has demanded an apology from the prime minister after his question about devolving North Sea oil revenues to Scotland was described as "stupid".
Angus MacNeil had asked David Cameron for his thoughts on the results of a poll carried out for the Sunday Express.
The SNP MP said 68% of Scots said they wanted revenues devolved.
Mr Cameron started his reply with: "Well, if you ask a stupid question you get a stupid answer".
He went on to say that North Sea oil revenues should be used for the benefit of the UK.
The exchange came during Prime Minister's Questions.
Mr MacNeil, who represents the Western Isles, asked: "Does the prime minister agree with 68% of Scots, or does he not?"
Mr Cameron said: "Well, if you ask a stupid question you get a stupid answer.
"The fact is the whole of the United Kingdom rightly has invested in the North Sea.
"The whole of the United Kingdom should benefit from the North Sea and I think we should do everything possible to keep the United Kingdom together."
He said England, Scotland, Northern Ireland and Wales were stronger together as the UK "than we ever would be separate".
Later, Mr MacNeil said he was astonished by Mr Cameron's response and has sought an apology.