Inverness gets second roller derby team - Nasty Nessie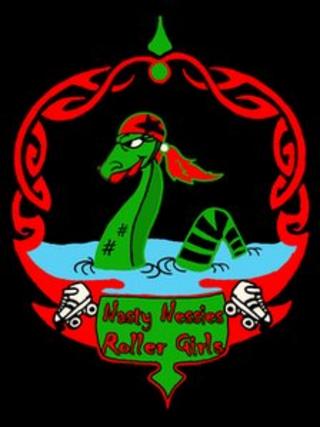 The popularity of roller derby - a full contact women's sport played on skates - in Inverness has led to the launch of the city's second club.
Nasty Nessie Roller Girls has 12 members, who include mothers and civil servants aged between 21 to 45, and coaching support.
Wild Ness was Inverness's first roller derby club.
There are also teams in Glasgow, Edinburgh, Aberdeen, Perth, Forth Valley and Dundee.
Popular in the US in the 1950s and 60s, roller derby has experienced a renaissance in recent years.
The rise in interest in the sport has also been marked by the 2009 film Whip It, starring Drew Barrymore and Ellen Page.
Nasty Nessie RG's members' nicknames include Irn-Bruzer and Black Death.
New recruits, known in the sport as fresh meat, are being sought along with a referee for events in a hired hall.
The Highland's newest club aims to become a fully recognised derby team so it can take part in bouts across the UK.
A Nasty Nessie RG spokeswoman said: "Why roller derby? We think it's fun.
"It's a chance for women aged 18 and up in and around Inverness to get together to play a very unique sport."
She added: "All skaters must be over 18, and wear full protective gear - helmet, mouth guard, wrist guards, knee pads and elbow pads - and, of course, quad roller skates."
Roller derby is competed on an elliptical track and games consist of a series of two-minute "jams".
Rival teams send five players each onto the track.
Players called jammers try to sprint through the pack of skaters and complete a full lap, scoring a point for each opponent they get past. Skaters called blockers and pivots attempt to stop them.
Nasty Nessie RG's spokeswoman said: "They do this by landing heavy shoulder or hip checks on opposing players, shoving them out of the way or knocking them to the ground.
"Any part of the front of a skater's body between shoulder and mid-thigh is a target zone, and any part of the body between shoulder and mid-thigh - excluding hands, elbows, and forearms - is legal to hit with.
"Illegal hits result in time served in the penalty box, legal hits often result in skaters flying off the track and landing in the crowd."
Other Scottish teams include Auld Reekie RG, Granite City Roller Girls, Fair City Rollers and Glasgow Roller Girls.
Team Scotland, the national team, expects to compete in the first Blood and Thunder Roller Derby World Cup.
It is to be held in Toronto, Canada, in December.