School logs from abandoned St Kilda and Mingulay online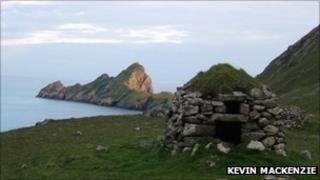 The last log books for schools on two islands which were abandoned by their residents in the early 1900s have been made available online.
St Kilda was evacuated in August 1930 because life had become too difficult on the remote archipelago.
Most of Mingulay's population of about 140 left the tiny island near Barra between 1910 and 1912.
The books document children not turning up for lessons because they were helping to cut peat and shear sheep.
In the St Kilda log book, teacher Dugald Munro's final entry reads: "Attendance perfect for the last week.
"Today very probably ends the school on St Kilda as all the inhabitants intend leaving the island this summer.
"I hope to be away soon."
An earlier entry details one pupil, Donald Gillies, not turning up for class because he was helping to shear sheep.
The last pages of the Mingulay log book tell of storms preventing younger children from attending school and the teacher's stock of coal for a fire being "exhausted".
'Exploit them'
Hebridean Archives, Tasglann nan Eilean Siar in Gaelic, and the the National Records of Scotland worked together on the online project.
David Powell, project manager and archivist with the Tasglann, said the books were available at Stornoway Library but putting them online opened up their entries to a wider audience.
He said: "The window into the past of these rural remote communities is fascinating and, as we were all school pupils at some point, is something we can all connect with in some way.
"Their digitisation will allow us to exploit them more widely as an education resource thanks to this partnership with the National Records of Scotland in Edinburgh."
Mr Powell added: "Over 170 log books for schools in the Western Isles are held and these are available in the appropriate local libraries in Stornoway, Tarbert, Lionacleit and Castlebay for all to enjoy."