West coast prawn fleet to supply Sainsbury's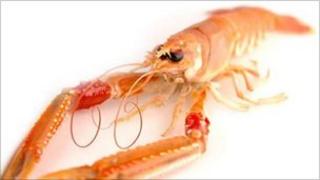 Fishermen working off Scotland's west coast have agreed to supply supermarket chain Sainsbury's with prawns.
They are also in talks with another supermarket company about supplying it with shellfish.
The fishermen told BBC Alba that the deal and ongoing discussions recognised the quality of their product and the sustainability of the fishery.
Prawns graded as high quality will be distributed through about 500 of Sainsbury's 800 UK outlets.
The shellfish will be branded as Scottish langoustine.
John Hermse, chief executive of Mallaig and Northwest Fishermen's Association, said the deal with Sainsbury's was fantastic.
He added: "Very often Scottish langoustine is seen as scampi and in some supermarkets as a buy-one-get-one-free product.
"We've always thought this was not the way to market such a fantastic, premium, flagship product.
"We've got to realise what we've got and market it accordingly."
Andy McTeare, Sainsbury's fish buyer, said: "We are keen to boost demand for Langoustines and reduce reliance on imported warm water prawns.
"As well as adding a delicious product to our fish counters it is benefiting fishermen as well - supporting the whole supply chain."