Dounreay sugar caddy and Queen Mother signed book saved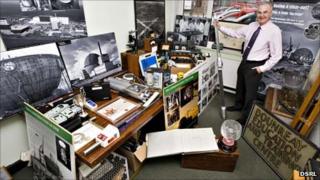 A silver-plated sugar caddy from the 1950s and visitor books spanning 44 years are among relics saved from the rubbish heap at Dounreay.
Gas detectors, air samplers and an isotope calculator from the former experimental nuclear site in Caithness will also be donated to museums.
Reactors and all buildings, including Dounreay's landmark sphere, are being demolished at a cost of £2.6bn.
However, lists have been drawn up of items to be saved as artefacts.
The site's heritage officer James Gunn has identified more than 70 pieces of stationery, gifts and equipment that will be donated to the Caithness Horizons museum in Thurso and the National Museum of Scotland.
'Explosive atmospheres'
Objects already sent to Caithness Horizons include three visitor books from 1957 to 2001, which include various VIP signatures. Guests at Dounreay have included the late Queen Mother and government ministers.
Coasters marking the site's 50th anniversary, sphere-shaped note pads, an employee's retirement gift and a slide-rule stamped with the letters UKAEA (United Kingdom Atomic Energy Authority) have also been handed over.
The Dounreay Site Restoration Limited (DSRL) has also been given a pair of Civil Nuclear Constabulary silver sergeant stripes, a UKAEA constabulary police note book, a 1961 first edition of Reactor Magazine and a safety torch designed for use in "explosive atmospheres".
The silver-plated sugar caddy, which is inscribed with the date 21 June 1958 and the words "Inst of Physics summer meeting at Dounreay", was among 47 items placed with the Thurso museum.
A range of equipment and kit made for use in the Dounreay Fast Reactor (DFR) and Prototype Fast Reactor (PFR) will be sent to the National Museum of Scotland.
They include an Edwards "Handy Tector" device for detecting helium and a monitor for picking up a radioactive gas called tritium.
An aluminium plate from the mocked up Zeus reactor built at Harwell, in Oxfordshire, to guide the design of the DFR is also on the list of donations.
Other objects include an unused crucible made of magnesium oxide for creating fuel called uranium billets, or pucks.