Fence posts at Beinn Eighe 'harbour rare life' SNH say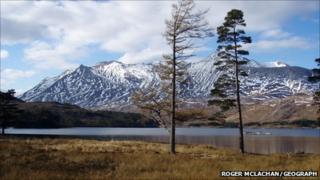 Wooden posts on fences erected to protect young trees on Great Britain's oldest national nature reserve have been found to harbour rare wildlife.
The Beinn Eighe reserve, Wester Ross, was given its designation in 1951.
Under a five-year plan for the site, Scottish Natural Heritage (SNH) expects deer fences will eventually become unnecessary to protect woodland.
However, the agency said scientists had found the posts to be "harbouring" interesting lichen species.
SNH said the fence posts would be left after the wire was taken down to act as "lichen reservoirs" that would encourage the spread of fragile species.
Fencing is no longer considered necessary because of the low numbers of deer in the area and large areas of established forest.
The government agency's plan sets out commitments to monitor the health of the reserves' fauna and flora.
Beinn Eighe NNR holds the entire British population of northern prongwort moss, according to SNH.
Scots pine trees on the reserve are also deemed to be Scotland's most distinctive strain of the native species.
They are thought to have originated from a different source after the last Ice Age from pines elsewhere in the country.
To protect the genetic integrity of the Wester Ross variety, pines from other parts of Scotland planted on the reserve have been removed.
Only seeds harvested from the Wester Ross Scots pine are grown for planting on the site.
The five-year plan also sets out an aim to monitor for rare moths, including the plutella haasi, which in Britain has only been recorded at Beinn Eighe.
Public access to the nature reserve has protection under the plan.
SNH said as many as 50,000 hillwalkers visit the area every year.