Campaigners ask for a boat during A82 closure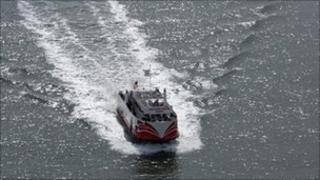 A group campaigning for improvements to the A82 has suggested using a boat while a section of the road is shut so tonnes of unsafe rock can be removed.
Forestry Commission Scotland has warned of the potential closure south of Fort William in November or December.
The A82 Partnership said a passenger boat should be used on Loch Linnhe to link Corran with Fort William while the road between the two places was shut.
Engineers warn that up to 250 tonnes of rock on a hillside poses a safety risk.
The Commission is working with Transport Scotland to plan an operation to remove the stone and said it was consulting widely with communities, businesses, the emergency services and others.
'Unusual situation'
Updates on the proposed closure are to be posted on a website and on Twitter.
Mike Green, the commission's project leader, said a date had still to be fixed for the start of the work.
He said: "We have considered all the options and taken expert advice on how best to handle this unusual situation.
"To remove the rock we have no other option but to close the road for a weekend and get the job done as quickly and safely as possible."
He added: "We're aiming for a Friday evening to Monday morning closure in late November or early December.
"This time slot is outside the working week and also falls between the end of the main tourist season and the start of the winter season."
'Fast boat'
In a statement, the A82 Partnership said it accepted the work was essential.
But the campaigners added: "It is also essential that provision is made for emergency services and we hope to be provided with details of the arrangements being made for police, ambulance and fire brigade as soon as possible in order that these arrangements can be made available for public review and scrutiny.
"In addition the A82 Partnership will be calling for an extension of services of the Corran Ferry and a fast boat passenger transfer between Corran and Fort William during the period of the closure. Alternative arrangements for public transport provision will also require to be put in place."