Anger ahead of coastguard tugs withdrawal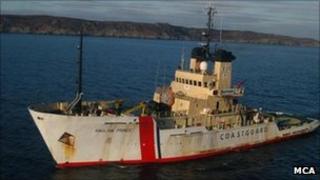 Anger at a decision to withdraw coastguard tugs is growing ahead of the boats' last day of service on Friday.
The UK government has said salvage operations were the responsibility of the commercial shipping industry.
It has emerged that one of the vessels - based in Stornoway - has been taken out of service early for refit work.
Four Scottish councils that have come together to fight the move said the cost cutting measure would put lives and the environment at risk.
The leader of Highland Council urged the government to heed the warnings.
Highland, Orkney, Shetland and Western Isles councils oppose the withdrawal of two emergency towing vessels operating off north and west Scotland.
Two vessels covering England's south coast are also to be taken out of service.
Highland Council leader Michael Foxley has written to Shipping Minister Mike Penning as part of a last attempt to have the decision reversed.
In an interview with BBC Radio Scotland, Mr Foxley said an independent report commissioned by the local authorities had concluded Scotland's coast would be left vulnerable.
Closure concerns
He said: "I made it crystal clear to him (Mr Penning) that if there was an incident the responsibility for that would lie with him and the Maritime and Coastguard Agency's chief executive.
"If they fail to act, to listen to the warnings and this independent risk assessment which is on top of a two-year-old risk assessment, there will be another incident and it will have major consequences."
Last week, a Department for Transport spokesman said: "We continue to believe that responsibility for ensuring the operational safety of ships is properly a matter for the commercial shipping industry, working in partnership with the tug and salvage industries.
"The government has had to take difficult decisions as part of its wider strategy to reduce the fiscal deficit, and it is simply not appropriate for the taxpayer to underwrite a responsibility on operators."
Meanwhile, Rural Affairs Secretary Richard Lochhead has reiterated concerns over plans for the possible closure or downgrading of Scottish coastguard stations.
He toured Aberdeen's rescue co-ordination centre, where staff could be reduced.