4X withdrawn from Fort William mountain bike weekend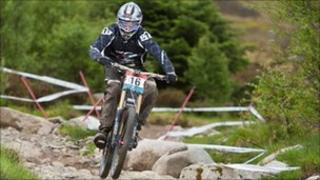 A competition has been withdrawn from the UCI Mountain Bike World Cup events programme at Nevis Range, near Fort William.
Four X, which pits four riders against each other in a short race over jumps and obstacles, will not be held in 2012.
The contest is held on Saturdays during three days of world cup competitions held at Nevis Range.
Cup organisers, the UCI, said preparing tracks for 4X was too expensive.
The organisation also said the event had an negative impact on the environment.
Leogang, in Austria, will host the only round of the world cup series to feature 4X next year, the UCI said.
A spokesman for Nevis Range said the event pulled in large crowds.
He added that staff were waiting news of any possible new event to fill the gap in the programme.
In 2002, Fort William hosted the inaugural UCI 4X World Cup.