Scots teacher on Japan earthquake six months on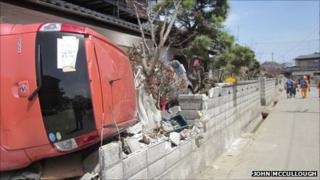 A Scot teaching English in Japan who experienced the 9.0 magnitude earthquake that hit the country in March says the clear-up will take decades.
Graeme Melvin, 28, from Edinburgh, but now living in the Tokyo area, previously told the BBC Scotland news website of the hours immediately after the quake and later what happened in the six days that followed.
Here he looks back at the past six months. Graeme's friend, American John McCullough, took images from around Tohoku, the region where the earthquake hit.
"Six months ago Japan was left in a total state of chaos by the disastrous events of 11 March where the earthquake and tsunami devastated all of us who live here.
The destruction and loss of life in the Tohoku area was monumental and the clear-up will take decades, not to mention building new homes for the hundreds of thousands of affected people who are still living in temporary housing.
However, the aid and support that Japan has had from the rest of the world has been simply incredible.
Everyone from friends and family, ordinary people from all over the planet who have never been here - to celebrities like Lady Gaga, Liam Gallagher, Linkin Park, Demi Lovato, Justin Bieber - and so many more, have done such a fantastic job of raising money for the Red Cross and the relief effort.
It goes without saying that the people living here can't thank everyone who has helped enough for their kindness and support.
Japanese companies have also tried hard to raise spirits by including messages such as 'Ganbarou Nippon' in their commercials, which means basically good luck/do your best Japan, as well as donating large sums of money to help the relief effort.
The biggest positive this year for Japanese people has been the success of their woman's football team who won the World Cup during the summer.
The Japanese media have jumped on this success and the Nadeshiko - which means female samurai - team have been all over TV and have really given Japan a huge boost.
Here in the area around Tokyo, the biggest effect on our day to day lives has been the power saving efforts.
The government has encouraged everyone to conserve energy as much as possible.
The prime example of this has been keeping air conditioning at 28C, which given the extreme humidity here during summer, has been a challenge.
Other examples include escalators being off, trains frequently having no lights on inside in the daytime and many offices changing their working schedules so that one day a week staff finish early - at around 17:00 - which is unheard of as office workers in Japan are generally expected to work 12 hour days every day.
Brave face
In my case I am still committed to staying here.
I have managed to get a promotion in my job as the senior teacher for one of my company's biggest clients, which I am thoroughly enjoying.
Only one friend of mine has actually left Japan because of what happened, returning to Australia with his Japanese wife.
Most people here are extremely sceptical about Tokyo Electric Power Company's ability to quell the leaks and shut down the Fukushima plant by January 2012, as they have promised, and the debate is now on here as to whether or not Japan begins decommissioning all of its nuclear power plants.
People here are trying to look towards the future with optimism, but it has been a truly disastrous year for Japan.
The Japanese deserve a lot of credit for the way in which they have coped and worked so hard to get through them together.
They continue to do their best to put on a brave face and live their lives with the same dignity and respect as they have always had.
Everyone who lives in Japan, whether they be Japanese, Brazilian, Korean, Chinese, American or British has been through so much this year and we can only hope that 2012 will be nothing like 2011."