Kittens dumped in Inverness bin and others near lay-by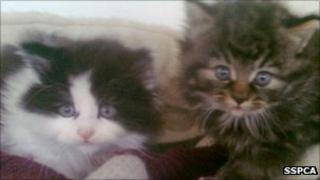 Two newborn kittens, still with their umbilical cords attached, were found inside a plastic bag in a wheelie bin, an animal welfare charity has said.
One of the two found in Glendoe Terrace in Inverness died while the other has been receiving care from the Scottish SPCA.
In a separate incident, two six-week-old kittens were found near a lay-by on the A9 between Aviemore and Inverness.
The Scottish SPCA described the two cases as "cruel" and "heartless".
The kittens were found in the wheelie bin on 15 September and the pair on the A9 on 22 September.
Senior Inspector Gill Macgregor said: "Abandoning an animal is a very irresponsible thing to do, but it's particularly cruel and heartless when it involves animals that are so young and helpless.
"The newborn kittens didn't stand a chance as they were taken away from mum as soon as they were born.
"Whoever put them in a bag and dumped them in a bin was basically leaving them to die."