Rachel Cowley fails to appear in court over drowning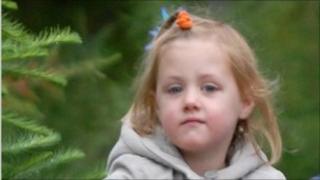 A mother who drowned her daughter after attending the birth of her lover's baby to another woman has failed to appear in court for sentencing.
Rachel Cowley, 43, of Shenval, Glenurquhart, cut the baby's umbilical cord at Raigmore Hospital in February.
She then walked off with her own child, Isabelle, and drowned her in a burn.
The High Court in Edinburgh heard Cowley had refused to come to the court with security staff. Sentence has been deferred until Friday.
The court heard that Cowley became "extremely distressed" at a psychiatric clinic, where she is being held, and would not leave with Reliance staff who were to take her to court.
Defence solicitor advocate Murray Macara QC told the court: "I don't know if what has happened this morning is mere stage fright or something more than that."
Mr Macara said Cowley was given medication and later seen by a doctor who said she could attend court although distressed.
The defence lawyer said a psychiatrist was convinced that the case should move to sentence and asked Lord Bannatyne to continue proceedings to Friday.
Lord Bannatyne agreed to make an interim compulsion order detaining her at a psychiatric hospital until then.
Cowley pleaded guilty to culpable homicide in July.
She was charged with murder, but the Crown accepted her plea to the reduced charge on the basis of diminished responsibility.
'Alternative lifestyle'
The court heard in July that Cowley and Nicola Charles, 26, were both in a relationship with Christopher Everitt, who fathered the children of both women.
Advocate depute Alex Prentice QC told the court that in his view, given the accused's personality, "the domestic situation was untenable".
Cowley, a first offender, admitted killing Isabelle, four, by forcing her head under water and causing her to drown during an attack in the grounds of Raigmore Hospital.
The court heard that Cowley -who has a three-year-old son - and Mr Everitt had lived an alternative lifestyle. Over time a sexual relationship developed which involved the pair and Ms Charles.
After Ms Charles fell pregnant she chose Cowley and Mr Everitt as her birthing partners.
Following the birth, Cowley held the baby and a midwife noticed she seemed tense during a discussion about registering the child.
Cowley later left the ward with Isabelle.
She later appeared at a couple's home in Balloch, near Inverness, in the early hours of 23 February seeking help and claiming she was lost.
Cowley was wearing a boiler suit she had taken from a skip at the hospital.
She ran off when the police were called, but was traced by officers.
The court heard that police asked Cowley if she had hurt the girl.
She said: "I think I might have done something to her. I think she might be hurt."
Mr Prentice said psychiatrists who examined Cowley were of the opinion that she was suffering from a mental disorder, most probably a personality disorder.