Cross roads at Inverness Campus 'best option' HIE say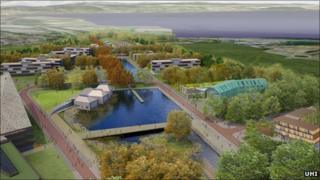 No major changes have been made to plans on how traffic would access a new campus at Inverness, Highlands and Islands Enterprise (HIE) has said.
Highland councillors deferred taking a decision on the development's masterplan and design guidelines amid concerns about road alterations.
There have been calls for a roundabout at the main entry point to the Beechwood site from the A9.
But HIE said experts' advice was that there should a cross roads created.
Westhill Community Council has been campaigning for a roundabout, arguing that it would better handle traffic.
Regional development director Carroll Buxton said HIE, which is leading the campus project, had agreed to road widening measures and an additional minor access road.
She added: "We have worked with the relevant transport authorities and experts in the field to come up with what we believe is the best and most effective solution, which is the cross roads solution.
"We have taken on board the advice of those experts and we do believe that is the best option."
HIE will be holding an Inverness Campus information day at Inshes Church on 11 October from 10:30 until 19:30.