Highland and Western Isles council in tugs disagreement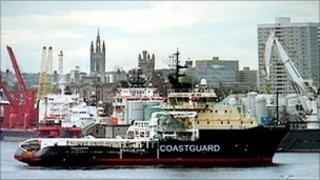 A split has emerged in a council taskforce urging the retention of Scotland's two coastguard tugs.
Western Isles and Highlands councils are in disagreement about the latest stage in the campaign to persuade the UK government to keep the vessels.
Earlier this week, an action plan identifying potential sources of funding was sent by the taskforce to Shipping Minister Mike Penning.
But Highland Council's leader said the document went over "old ground".
Shetland and Orkney councils also help to make up the taskforce.
Highland Council leader Michael Foxley confirmed to BBC Radio Scotland that there was a split.
He said the latest document covered submissions that were made to the UK government six months ago and said the Department of Transport had already made clear it was not willing to fund the vessels.
Mr Foxley insisted he was still involved in talks with ministers and MPs about finding alternative funding.
Taskforce spokesman Calum Iain Maciver, of the Western Isles' local authority Comhairle nan Eilean Siar, said he believed there was still a discussion to be had with the the government and said the document had been sent to ministers in the name of all four councils.
He refused to discuss the split in detail but said it "was a shame" Highland Council had taken its stance.
The two tugs will be officially withdrawn from service on Friday.