SNH report details landowners' concerns about dogs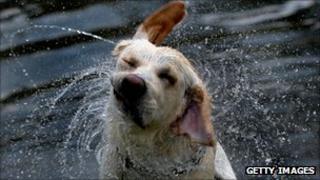 Landowners have complained of "significant problems" with irresponsible dog owners.
A report commissioned by Scottish Natural Heritage (SNH) said landowners reported that some people were unable to control their pets around livestock.
They also complained about dogs being allowed to run through crops.
SNH commissioned research into attitudes and behaviour since changes to access rights. A key finding was an increased awareness of the rules.
The newly published report is called Monitoring responsible behaviour among recreational users and landowners.
Outdoors groups, public bodies and private landowners were among those surveyed in 2008 for the research.
The aim of the study was to investigate trends in attitudes and behaviour since rights to public access to the countryside changed under the Land Reform (Scotland) Act 2003 and the Scottish Outdoor Access Code came into effect in 2005.
Results were compared to a survey conducted in 2002-03 and a study carried out between 2005-07.
'Highly aware'
The latest research suggested awareness of the code and its contents has increased among recreational users of the countryside from 35% in 2002-03, to 73% in 2008.
Awareness has also increased among land managers from 39% to 63%.
But the report flagged up worries about dogs not being kept under control, a problem SNH has been trying to tackle through an education campaign.
In their report, the researchers said: "Whilst recreational users within the survey are highly aware of a responsibility to control dogs, the survey findings indicate that significant problems still exist with regard to visitors accessing managed land with dogs.
"Some landowners and managers raised concerns that visitors to the outdoors show a basic lack of understanding of how to control and manage dogs around livestock - particularly when lambs and calves are around - and also the damage that dogs can do by being allowed to run through crops."