Inverness warning of 'endemic' steroid use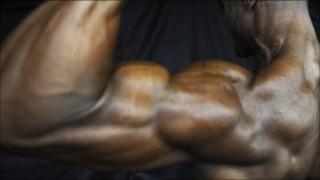 The use of steroids by bodybuilders has become endemic in Inverness, according to a local gym owner.
A new steroid clinic opened in the city in May to offer help and support to users.
Gavin Laird, owner of the Forge Gym, said he was hugely supportive of the clinic. Staff there have been seeing a couple of people every day.
Mr Laird has been recommending it to anyone he suspects is using the performance-enhancing drug.
"The clinic only see a tiny proportion of the people who are using it," he said.
"I think there's still a huge problem in that people aren't willing to interact with healthcare professionals.
"There's a fear that they'll be judged, there's a fear that they won't be treated confidentially or that in some other way they'll be mistreated.
"That's not the case at all."
Mr Laird said the side effects of steroid use can include problems with blood pressure and liver function.