RAF Lossiemouth winchman honoured for Ben Nevis rescue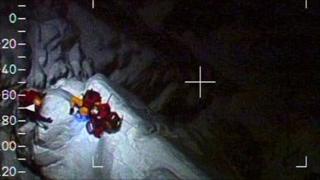 A helicopter winchman has been honoured for his role in the rescue of two climbers who got into difficulty on Tower Ridge on Ben Nevis last year.
Flt Sgt Mark Lean and his colleagues from RAF Lossiemouth had to operate in darkness and with 10 minutes of fuel left in the tanks of their aircraft.
The crew had been called to the scene after another climber in the group, Daniel Rafferty, 19, fell to his death.
Flt Sgt Lean received a Queens Commendation for Bravery.
The 39-year-old was lowered to a narrow ridge and detached himself from his winch cord so he could reach the two climbers, who were in a state of shock.
His citation following the incident on 12 December 2010 praised his professionalism, bravery and coolness under pressure in an extremely challenging and unpredictable situation.
Flt Sgt Lean and the rest of the crew were training when they were diverted to the rescue at Tower Ridge.
The alarm was raised after Mr Rafferty, from Alness, fell into Tower Gully.