Glendoe hydro scheme work 'progressing well'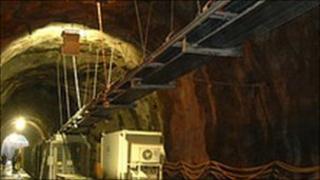 Work to get a hydro-electric plant back on stream following a rock fall in a tunnel is 'progressing well', according to its operator.
Production at the £140m Glendoe scheme, near Fort Augustus, stopped in 2009.
The rock fall was in a tunnel carrying water from a hilltop reservoir to a massive turbine.
Operator Scottish and Southern Energy (SSE) said it hoped to start refilling the reservoir this winter and start generation again early next year.
Two new tunnels needed to bypass the blocked one have been completed.
In a statement, the company said: "Work on the restoration of electricity generation at the Glendoe hydro electric scheme is continuing to progress well and investment is being made to ensure it is carried out to a very high design specification.
"Repair of the tailrace has also commenced. This means the process of refilling the reservoir should begin around the end of this winter and electricity generation should resume in the first half of 2012."
Glendoe was officially opened by the Queen in June 2009 before operations were suspended in August that same year.