Details of deal for Scotland's coastguard tugs awaited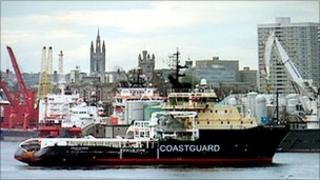 The firm which runs Scotland's two coastguard tugs says it has had no contact about continuing the service.
The boats were given a last-minute three month stay of execution by the UK government on Friday, following a campaign to save them. Cover had been due to end at midnight.
Shipping company JP Knight said no new deal had been agreed and Scotland's seas were currently without any cover.
The UK government said it was finalising the interim arrangement.
A spokesman said: "The government has identified £3m of interim funding for the tugs and is working through the detail of arrangements at present.
"This will allow a three month extension in the hope a long-term solution can be found and should be welcomed.
"The relevant parties will be involved in that process and arrangements will be announced soon."
Emergency towing
The two tugs, which go to the aid of ships in trouble in Scottish waters, are based in the Minch and Shetland.
The Maritime and Coastguard Agency hire the tugs from shipping company JP Knight.
The UK government had proposed ending the contract, saying the safety of vessels and salvage operations was the responsibility of the commercial shipping industry.
Withdrawing the Anglian Sovereign and the Stornoway-based Anglian Prince, along with two vessels covering England's south east coast, was expected to save £32m over four-and-a-half years, the UK government said last year.
In October 2010, the Anglian Prince went to the aid of the nuclear-powered submarine HMS Astute after it grounded off Skye.
Highland, Orkney, Shetland and Western Isles councils have been campaigning to have the emergency towing vessels kept.