Avoid 'cool' outdoor youth events, says SNH report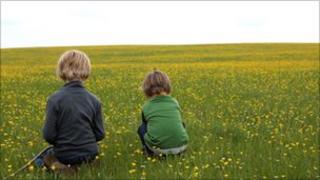 Words such as "cool" and "fun" should not be used in promoting outdoor events for young people, a report for Scottish Natural Heritage (SNH) has said.
The report said mimicry of language believed to be used by young people lacked credibility and could come across as patronising.
Researchers found 93% of 11-17-year-olds they surveyed enjoyed spending free time outdoors.
But they also recorded teenage girls being less keen on outdoor pursuits.
The report Enjoying the outdoors - attitudes and behaviour of young people in Scotland draws on research carried out with young people in October 2010 and March and April this year.
Its authors, Scott Porter Research and Marketing, recommended that the outdoors should be promoted as somewhere youngsters could get a sense of personal space and could enjoy themselves with friends.
In their conclusions, they added: "Avoid the mimicry of youth language 'fun', 'enjoyable', 'cool'. It lacks credibility and young people find it patronising.
"There is no need to say 'everyone's doing it' as it detracts, becomes communal, organised and sounds a bit desperate."
Girls aged 13 and older told the researchers they did not feel confident about taking part in physical outdoor activities.
Their reasons included concerns they might be teased by other girls.