Scotland's tug boats get £3m interim UK funding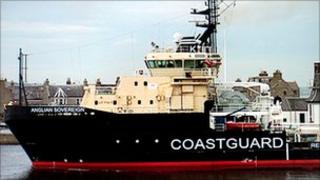 The UK government has made £3m available for the provision of emergency tugs in Scotland for the next three months.
Scottish Secretary Michael Moore announced the funding during a visit to Stornoway, on Lewis.
Two tugs hired by the Maritime and Coastguard Agency (MCA) were withdrawn from service on Friday.
Mr Moore said the funding would be for replacement vessels that would work from Stornoway and Shetland.
The SNP has criticised the UK government for leaving Scotland without cover over the weekend.
The UK government had said the emergency towing vessels (ETVs) hired by the Maritime and Coastguard Agency (MCA) were too expensive.
It said salvage operations should be the responsibility of the commercial shipping industry.
'Final attempt'
Mr Moore said: "I am aware of the strength of feeling on this issue expressed by communities in the Northern and Western Isles.
"It is disappointing that efforts by local representatives to secure a commercial replacement for this service were unsuccessful before expiry of the contract.
"I believe it is worth a final attempt to try and find a solution, and the Scotland Office has agreed to lead the efforts."
He added: "Everyone must be clear that this cannot be a long-term solution.
"The majority of traffic in these waters is owned by private companies and we will be engaging with them and others to find a satisfactory alternative."
The Scottish government said it was "extremely important" the UK government identified and funded a long-term solution.
Environment Secretary Richard Lochhead said: "Keeping the emergency towing vessels in service is absolutely the right thing to do to ensure Scotland's mariners, coastline and marine environment remain suitably protected and I am pleased that UK ministers have listened to the case put forward by us and by all the other campaigners who were pressing for this.
"Scottish ministers have repeatedly called on the UK government to reverse their decision and retain the current level of provision until a suitable alternative can be introduced."
'Greater danger'
Western Isles SNP MP Angus MacNeil said the replacement tugs had to be put in place immediately.
He said: "Scotland's waters have been without any emergency cover since Friday night and the lack of action by the UK government has been astounding.
"The UK government's dithering and lack of urgency on this has placed everyone that uses Scottish waters for employment, transport and recreation into greater danger."
He said "emergency cover must be up and running this afternoon".