Numbers of rare corncrakes continue to rise in Scotland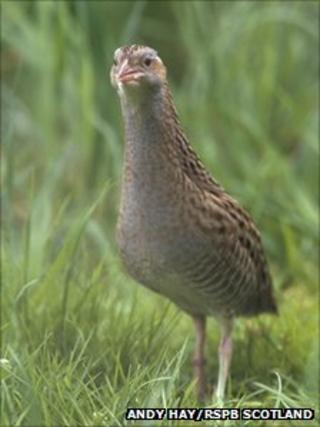 Numbers of one of Scotland's rarest birds are continuing to increase, according to RSPB Scotland.
Corncrakes in the UK are almost exclusive to north and west Scotland after habitat loss in other areas.
The latest RSPB Scotland count found 1,213 male birds, which can be detected by their calls.
Last year, 1,193 males were recorded and this was the the first time in three years that numbers of the sub-Saharan migrant had increased.
Corncrakes were counted on Orkney, the Western Isles and the Inner Hebrides.
RSPB Scotland credited the rises on Scottish government agri-environment schemes.
The payments are designed to encourage landowners and tenants to leave meadows to grow.
Tall grasses provide shelter from predators for young corncrakes.
Intensive hay and silage production - which is discouraged through the payments - has been blamed for playing a part in the birds' decline in the UK since the early 20th Century.
RSPB Scotland said the government schemes were under threat from spending cuts.
The Scottish government said new cash to support the schemes was in the pipeline.