Skiing at higher levels in Scotland suggested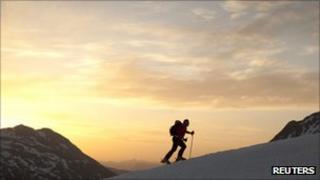 Giving snowsports enthusiasts access to snow higher up mountains might have to be considered by Scotland's ski resorts, according to a new report.
The independent study said conditions were unreliable at 2,000ft (610m) where all the centre's base stations are.
The report's authors said resorts may have to follow examples from Japan and Switzerland where there was access to better quality, higher snow fields.
But they added that providing the necessary chairlifts would be costly.
The report also suggested packages should be offered to encourage a growing number of older people and those with disabilities onto the slopes.
Misguided public perceptions that Scottish facilities lacked comfort and any frills and that there was little snow available have to be dispelled, according to the authors.
The Scottish Snowsports Strategic Review was commissioned by Highlands and Islands Enterprise (HIE) and Scottish Enterprise (SE).
It looked at conditions and visitor numbers at Scotland's five resorts - Cairngorm, Glencoe, The Lecht, Nevis Range and Glenshee.
The report also included research of efforts in Japan, Sweden and New Zealand to revitalise their ski industries.
Snowsports in Scotland were calculated to generate an average £30m a year for the economy and supported 634 jobs directly.
However, the review warned: "It is unlikely that snowsports in Scotland will ever come back to the levels of the late 1980s/early 1990s, unless there is year on year, improved access to good snow and measures are put in to attract an older population and drive entry into the sport.
"The ski centres need to become more focused on year-round outdoor activity."
The researchers suggested looking to older age groups to fill a gap left by a decline in young people skiing.
They said: "There is an ageing population with a greater percentage of the population forecast over 65 in the future, Scottish demographics is working against skiing as an activity.
"Products and packages need to be developed to attract this older ski market.
"It is reported there are fewer younger people taking up the sport, fewer schools involved in skiing as an activity, due to costs, risk assessments and lack of staff volunteers."