Decontamination professor a UK first, says UHI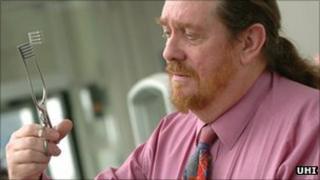 A scientist has become the UK's first professor on decontaminating medical equipment, according to the University of the Highlands and Islands (UHI).
Prof David Hurrell has taken up an honorary position at Scotland's newest university.
He teaches a postgraduate MSc in medical device decontamination.
The course on understanding the processes involved in cleaning reusable equipment and instruments is aimed at nurses and health care workers.
UHI principal and vice-chancellor James Fraser said Prof Hurrell had extensive knowledge in the field both in the UK and overseas.
He added: "We look forward to the opportunity to continue our work with Prof Hurrell in the further development of this MSc and other courses in the discipline."
Prof Hurrell said being made an honorary professor was a great personal honour and recognition of the work in making medical equipment safe.