Huge waves tracked off Lewis by Lews Castle College UHI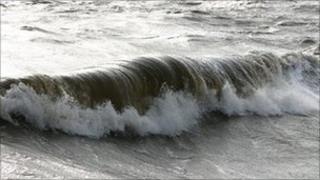 Waves said to be twice the normal height expected off a Western Isles coast have been recorded.
The rollers of more than 15m (49ft) occurred during gales on Monday.
They were measured by devices called wave rider buoys, that were installed off north west Lewis as part of a renewable energy project.
Lews Castle College UHI, which is involved in the project, said the waves came as winds peaked at 66mph (106 km/h).
The buoys, part of the Hebridean Marine Energy Futures scheme, recorded the waves about five nautical miles off Lewis.
Lews Castle College UHI said it was the first time giant waves have been accurately recorded off the Western Isles.
Project leader Arne Vogler said: "The occurrence of 15m waves - the height of a four-storey building - after half-a-day of severe gale force winds indicates that much higher waves are likely to occur during prolonged storm periods which are often encountered in the area between autumn and spring.
"The ability to measure these kind of events will allow us to gather invaluable baseline data which can be used to assess impacts of climate change and changes of seabed use."
Radio link
The buoys were installed at the end of September.
They are the first stage in a wave data observatory network and transmit live data through a radio link to the shore station.
In February, waves towering to 15.9m (52ft) were recorded by the Met Office in the sea off Shetland during stormy weather.
Equipment on a buoy called K7 recorded the huge waves.
The National Oceanography Centre in Southampton said waves that height were recorded once in 20 years.