Fujitsu boss says criticism over Highland work 'unfair'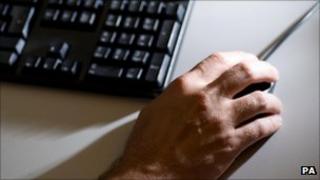 An IT boss has said some criticism of his company's contract with Highland Council has been unfair.
Brodie Shepherd said Fujitsu had taken "a bashing" over areas of its service to the local authority and its schools.
His comments followed a meeting where councillors heard 15% of Fujistu's work at council offices and about 40% in schools had been completed.
Mr Shepherd said the company had delivered six out of eight major projects under the contract.
Fujitsu said it would continue to work closely with Highland Council to successfully complete the other work.
Councillors were briefed on Wednesday on how the £70m contract with Fujistu was progressing.
Badenoch councillor Gregor Rimmell told the resources committee of the problems experienced by Alvie Primary in Kincraig.
He said the school's computer system was "refreshed" in the summer and nine different Fujitsu teams have been back at the primary since then to resolve problems with it.
'No communication'
Mr Rimmell said: "It is problem solving on the headless chicken basis.
"They are all coming full of goodwill and energy and there is no management.
"There seems to have been no communication between the nine different pairs of people that went to the primary school."
Later, Mr Shepherd, public sector director for Fujitsu in Scotland, said complex IT projects could draw criticisms.
He told BBC Radio Scotland: "We invest a heck of a lot more than we actually budgeted for originally.
"I think we have had a bit of a bashing in some circles which sometimes, I think, hasn't been fair.
"We have made mistakes, there is no doubt about that, but with a lot of IT projects of this complicated nature that often happens."