Warning over aluminium in water in North Uist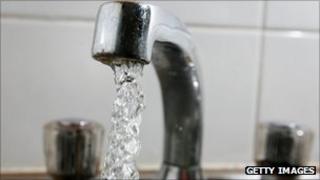 People in part of North Uist are being advised not to drink or cook with tap water after raised levels of aluminium were found in samples.
The issue is affecting about 450 properties that rely on the Bayhead Water Treatment plant for their supply.
Scottish Water said it has been distributing bottled water to all those affected.
The areas affected are from Scolpaig to Grimsay on the West coast of North Uist.
Water supplied by other treatment works at Lochmaddy and Benbecula are not affected.
Dr Ken Oates, consultant in public health medicine at NHS Highland, said: "We appreciate the inconvenience this advice will bring to people and businesses in the affected areas, but at all times our priority has to be the protection of public health.
"We would like to emphasise that this is a precautionary measure and that there is no evidence that anyone has consumed water which may have caused them adverse health effects due to the consumption of aluminium.
"Any acute health effects from aluminium consumption are extremely unlikely."
He added that longer-term effects would only happen after consumption of very high levels over a prolonged period of time.
"That is why this precautionary action has been taken at this early stage to avoid any possibility of that occurring", he said.
Bottled water
Simon Harrison, water operations manager at Scottish Water, said: "We have a team who are working around the clock at Bayhead WTW to reduce the aluminium levels.
"An issue with the raw water colour, together with the treatment process has caused them to rise slightly higher and as a precaution we are advising customers to only use the water for washing and flushing the toilet.
"We will be delivering all customers with packs of bottled water this evening which will be left on their doorsteps."
He said additional supplies would be available at Balranald Church HS6 5DW; The Old Church, Carnish HS6 5EJ; The Bayhead Shop HS6 5DS; Clachan Stores HS6 5HD and Ardnasgruban Post Box, Grimsay HS6 5HT.
A full list of the affected postcodes is available at www.scottishwater.co.uk - click on "Current service updates".
"We apologise for any inconvenience to our customers in North Uist as a result of these issues at Bayhead WTW," Mr Harrison added. "We will restore normal supplies as soon as possible."