Redundant Dounreay landfill given bird-friendly surface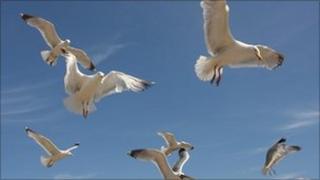 Work to cover over a dump at a nuclear plant will involve adding a layer of gravel to attract nesting gulls, terns and oystercatchers.
The redundant site, called Landfill 42, at Dounreay in Caithness is being filled in at a cost of up to £2m.
About 50,000 tonnes of dumped material was also shifted so the edge of the landfill could be situated 10m (32ft) further away from a nearby shore.
Scottish Natural Heritage had recommended the bird-friendly surface.
Dounreay Site Restoration Limited said it was planning to apply to the Scottish Environment Protection Agency (Sepa) to surrender its licence to use the landfill.
The UK Atomic Energy Authority was fined in 2006 after radioactive material was found at the dump.
DSRL said the small amounts of radioactivity dated from construction work done at Dounreay in the 1960s and 1970s.
It said the dump contained other hazardous materials, including asbestos.