Gaelic singer John Boa wins World Porridge Championship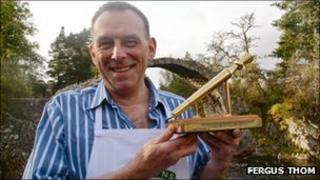 A Gaelic singer from Edinburgh has won the coveted Golden Spurtle Award at the World Porridge Making Championships.
John Boa convinced the judging panel his mix of oatmeal, water and salt was the best - fighting off competition from as far afield as California.
Former overall winner, Neal Robertson from Auchtermuchty, won the speciality section with his concoction of spiced porridge with a blueberry compote.
The event is held in a village hall in Carrbridge in the Highlands.
Mr Boa, 50, is a singer with the Lothian Gaelic Choir and also enjoys cycle touring.
He has twice cycled between Land's End and John o' Groats.
On each trip he carried oatmeal, salt and a spurtle to make his breakfast every day.
"I was undoubtedly helped along the way by a morning intake of porridge," he said.
"The simplicity of using just one main ingredient makes it the only choice for cycle touring - it's easy to carry enough to do breakfast for the whole week".
Californians Merry Graham and Patrick Potter were expected to be among those competing.
The title, contested by people from all over the world, is awarded to the porridge maker deemed to have made the best traditional porridge using oatmeal, salt and water.
Recipes in the past have included curry powder, sausages and seafood.
Entries are graded on consistency, taste and colour.
A spurtle is a spatula-like tool traditionally used to stir porridge.