Campaign to retain emergency tugboats backed by WWF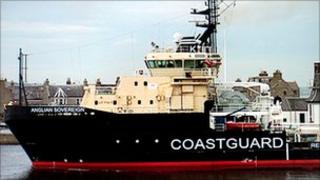 The environment group WWF Scotland has added its voice to the campaign to retain Scotland's two emergency tugs.
It claimed climate change would mean more extreme weather and an increased risk of a marine accident.
The UK government intends to withdraw the service, claiming that salvage operations are the responsibility of the commercial shipping industry.
The comments came as Scottish ministers repeated calls for the UK government to reconsider its planned coastguard cuts.
WWF Scotland director Dr Richard Dixon said: "These tugs were put in place because the Braer disaster showed quite clearly that they were needed.
"Climate change will mean more extreme weather so the risk of another serious marine accident has not only not gone away it is actually increasing.
"Penny pinching is putting lives and our environment at risk, the emergency tugs should be retained."
A Scotland Office spokesman said it had given repeated assurances that it would be possible to spot purchase a suitable vessel should an incident occur.
He said some campaigners appeared to misunderstand the difference between a search and rescue vessel and an emergency tow vessel, and the nature of the contract process.
He added: "The Scotland Office is working closely with the Maritime and Coastguard Agency on the issues of cover and safety in general."
'Unacceptable plans'
Earlier this month, the tugs were given a three-month reprieve when the UK government provided one-off funding of £3m.
As well as the withdrawal of tugs, the UK government's proposals would see Scotland's Maritime Rescue Co-ordination Centres cut from five to three, and staff numbers reduced at the centre in Aberdeen.
The UK government has claimed its proposed overhaul of the coastguard service will help modernise the service and achieve efficiencies.
In a joint letter, Environment Secretary Richard Lochhead and Transport Minister Keith Brown called on UK Transport Minister Mike Penning to rethink the plans.
Mr Lochhead insisted that offshore energy incidents should continue to be handled by Aberdeen Rescue Co-ordination Centre, because it was "strategically placed at the centre of the oil and gas industry".
He also said it was "unacceptable" that the "busiest recreational area in Scottish waters" should be covered from Belfast instead of by Clyde Coastguard.
He added: "Furthermore, the scale and incoherent nature of the cuts proposed - which also include reviewing the Air Rescue Co-ordination Centre at Kinloss and scrapping the Nimrods - underline the risks that the marine environment and the people who use our seas are being exposed to.
"That's why marine safety and control of coastguard operations should be fully devolved to Holyrood, so that decisions impacting on the safety of our seas are made in Scotland with Scottish interests at the fore."