Three former coastguard tugs anchor in Moray Firth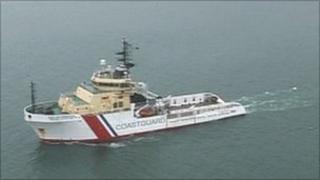 Three tugs that were contracted to the Maritime and Coastguard Agency (MCA) until last month have gathered in the Moray Firth in the Highlands.
The Anglian Princess had worked out of Falmouth, Anglian Sovereign covered Shetland and the Anglian Earl was based at Stornoway on the Western Isles.
The vessels' owner JP Knight is based in Invergordon in the Highlands.
The UK government withdrew the tugs to save costs and said the industry should take responsibility for salvage.
However, it has committed to a one-off payment of up to £3m to cover the cost of replacement tugs for Scotland for three months.
The Anglian Princess and Earl have been anchored off Nairn and the Sovereign near the entrance to the Cromarty Firth.
Highland, Western Isles, Orkney and Shetland councils campaigned against the withdrawal of emergency towing vessels from the MCA.
Over the weekend, the environment group WWF Scotland added its voice to calls for Scotland to retain two tugs.
It claimed climate change would mean more extreme weather and an increased risk of a marine accident.