SNH advertise Inverness HQ office space commercially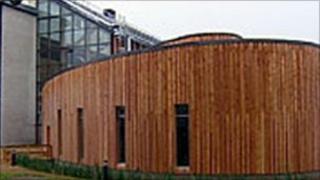 Office space at Scottish Natural Heritage's (SNH) headquarters has been offered to commercial businesses for the first time.
Parts of Great Glen House in Inverness are sub-let to the Crofters Commission and Paths for All Partnership, but they are public bodies.
SNH said advertising a suite commercially at the HQ was a first.
The second floor area covering 455sq m (4,898sq ft) is surplus to the government agency's requirements.
Joe Moore, director of corporate services at SNH, said Great Glen House was a publicly-owned building.
He added that the agency was continuously looking at ways of making the property "more environmentally, operationally and financially efficient".
Great Glen House became SNH's new HQ in 2006, but the relocation of staff from Edinburgh drew criticism from MSPs.
Moving government jobs out of the capital was a flagship policy of the previous Scottish administration.
In 2007, the property was voted the best corporate workplace in Scotland and the UK in a British Council for Offices' awards scheme.
Judges said the building met the aspirations of staff and was welcoming to the public.