Stornoway women's row over cat headed for court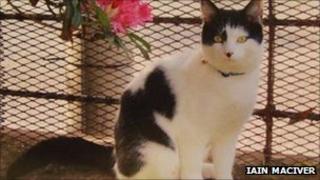 A row between two women over a cat is to be heard in court so a sheriff can decide who should own the pet.
Nicola Dempster said she bought the cat and had him for six months before he went missing in March this year.
But Della Macdonald has lodged papers at Stornoway Sheriff Court claiming she found the cat and looked after him until he again went missing in August.
In court papers, Mrs Macdonald said she had demonstrated she could look after him better than Ms Dempster.
Both women live in Stornoway on Lewis.
The case is due to be heard next month.
Ms Dempster told BBC Scotland that she bought the cat, which she calls Smudge, on 22 September 2010 and has receipts from the pet shop where he was bought and also the bills from two visits to a vets for inoculations.
She said Smudge was known for wandering beyond his home patch.
He went missing in March this year and Ms Dempster had found him again in August on her way home from work.
In papers lodged at the court, Mrs Macdonald said the cat, which she calls Oscar, turned up at her house on 6 March this year and was thin and hungry.
She said she tried to trace its owner through appeals on local radio, in a newspaper and in supermarket notices, but no-one came forward.
Alleged row
Mrs Macdonald said the cat had been a comfort to her and her husband Neilson, a former marine engineer who is disabled.
However, on the evening of 31 August, the animal went missing.
The next day Mrs Macdonald organised searches with friends and again appealed on local radio for his return.
A friend then told her that Ms Dempster had written on social networking site Facebook that she had found her long-lost cat Smudge nearby and was thanking whoever had looked after it.
Mrs Macdonald said in the court papers that she went to Ms Dempster's home to ask for the cat back but there was then an alleged row which resulted in the police being called. The officers offered words of advice but took no further action.
In her court papers Mrs Macdonald said she was heartbroken, could not sleep well and has other health problems which she believed were because of the stress of losing the cat.
She said her 15-year-old dog Hamish, not a cat lover until Oscar's arrival, would cuddle up to and slept with the cat.
Hamish was also said to be "inconsolable", according to the court papers.
Mrs Macdonald said she had looked after the cat longer than Ms Dempster and had demonstrated she could look after him better.
'Stayed happily'
Ms Dempster said she tried to trace Smudge after he went missing in March and reported his disappearance to Cats Protection.
After finding him in August, she noticed he had been cared for and had sought to thank the person who had looked after him.
She said two weeks later Mrs Macdonald had knocked loudly on her door and was calling out the name Oscar.
Ms Dempster said she had since learned that a member of the Scottish SPCA (SSPCA) had received a report from Mrs Macdonald saying she had found the cat as a stray.
An SSPCA officer left the cat in Mrs Macdonald's care until the owner could be traced but he later forgot he placed the pet temporarily with the woman, said Ms Dempster.
She said: "Since then, Smudge has stayed happily with us.
"Myself and my partner both have unusual shift patterns, so although I may be out some of the day and evening, my partner is there too.
"He is not now and never has been an unhappy cat, has never been thin and has most certainly never gone hungry."