MAIB wheelhouse warning after Stornoway boats incident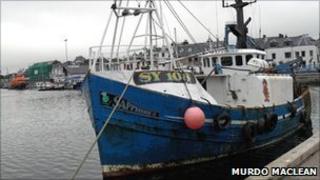 The wheelhouse of a prawn trawler was left unattended for "substantial periods" before it collided with another vessel, according to a report.
The Silver Chord hit the other prawn trawler, the Sapphire II, off Lewis, on 12 January.
There were no injuries, but the Sapphire II sank.
In a report, the Marine Accident Investigation Branch (MAIB) said fishermen leaving wheelhouses unmanned was a persistent problem.
It said the Maritime and Coastguard Agency (MCA) has previously warned against such behaviour.
A skipper was working alone on the Sapphire II, which was stationary, while there were three crew aboard the Silver Chord as it travelled towards Stornoway. Both vessels had been working out of port.
The report said that all those aboard the boats had been focused on tasks when the collision happened.
The coastguard and RNLI were alerted to the incident.
Investigators said the Silver Chord was manoeuvred close to the stricken Sapphire II.
The MAIB report said: "As Silver Chord closed, the skipper of Sapphire II felt his vessel's stern rising and realised that she was about to founder.
"He quickly picked up his mobile phone and tobacco from the wheelhouse and stepped across onto Silver Chord's deck."
The Sapphire II later sank.
Among its recommendations, the MAIB has advised the skipper of the Silver Chord to keep the wheelhouse manned at all times.
The Sapphire II's skipper has been urged to carefully consider the risks of working alone in the future.