Scots harvest 'not the disaster feared' says Lochhead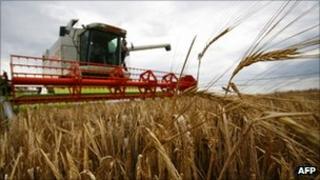 Scotland has had its highest cereal harvest yields in 20 years, according to figures released by the Scottish government.
Rural Affairs Secretary Richard Lochhead said frequent spells of wet weather had raised concerns the harvest would be a "disaster".
Spring barley, wheat and oilseed rape production increased this year.
High moisture content in the grains harvested, however, meant greater expense for farmers in drying it out.
The amount of oats and winter barley grown for harvesting in 2011 also fell, according to the figures gathered for the first Estimate of the Cereal and Oilseed Rape Harvest.
Mr Lochhead said: "It appears that the last gasp of summer has saved the harvest and, in particular, it is heartening to see average cereal yields increase by 7.5% to 6.9 tonnes per hectare - the highest level in 20 years.
"I appreciate it is not all good news for farmers, with the high moisture content leading to increased production costs and the delayed harvest leading to operational challenges.
"However it is not the disaster we feared and compared to the rest of the UK, Scotland has seen greater increases in cereal, wheat and oilseed rape production which are to be welcomed."
Threats to harvests during wet summers include heavy rain flattening crops which leaves them vulnerable to crows and pigeons.
Rain-sodden ground can also bog down large machinery, such as combine harvesters.
High moisture content in harvested grains is often reduced by drying it artificially.
Cereal production increased by 346,000 tonnes between 2010 and 2011 to more than three million tonnes - the highest production in the last 20 years, according to the figures.
Total barley production increased by 284,000 tonnes to 1.9 million tonnes and the government said this was caused by an increase in spring barley production and yields.
Winter barley production decreased by 8,400 tonnes due to a 5.3% in area where it was grown, however, average yields increased by 2.9%.
Wheat production increased by 66,000 tonnes to 984,000 tonnes because of a 3.6% increase in the area it was grown and also a 3.5% rise in average yields.
'New varieties'
The production of oats decreased by 3,000 tonnes to 132,000 tonnes.
Oilseed rape production increased by 41,000 tonnes to 163,000 tonnes. The government said this increase was caused by an increase in area and also an increase in yield of 25.6%.
Invergordon farmer David Houton, a member of Highland Grains and Cereals Association, said a combination of new varieties of crops and spells of good weather had helped cereal producers.
He said: "It was a good year and the potential was there all the way along.
"Whether everybody was able to realise that potential by harvesting the grain in good condition, in some cases the answer to that question will be yes and in some cases no."
Mr Houton added: "Yield increases have been down to the adaption of new varieties, some of which are proving to be very good, along with weather conditions which were sometimes good."
Fine spells
According to the Met Office, 2011 had the coolest June across the UK since 2001, the coolest July since 2000 and the coolest August since 1993.
It said the season as a whole was the coolest since the summer of 1993 with only about 10 days when the temperature exceeded 25C widely.
Eastern Scotland had its second wettest summer since records began in 1910, according to the figures.
Sunshine totals over the UK were close to average and similar to summer 2010. Durations were close to normal during June and July, but well below in August.
Over western Scotland, July was one of the sunniest since 1929, according to the Met Office.
Fine spells of weather in September and at the start of October helped farmers with the harvest.