Owl injured in Dunbeath returned to wild by SSPCA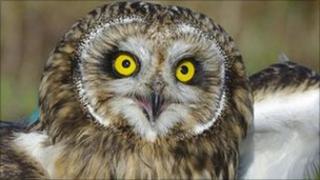 A short-eared owl badly injured after being attacked by a cat or another bird has been returned to the wild by an animal welfare charity.
The bird was was found by a member of the public near Dunbeath, in Caithness, in August.
It required two months care at the Scottish SPCA Caithness and Sutherland Animal Rescue and Rehoming Centre.
The charity has also been able to release a buzzard that was taken to the centre after being hit by a car.
Short-eared owls are classed as an amber status species by the RSPB, meaning their numbers have been in decline or habitats threatened.
Senior Inspector Audrey Gunn said the owl was weak and under weight when it was found.
She added: "I returned it to the Dunbeath area and the lady who found it was thrilled to get a photograph of the rare bird before I released it.
"Hopefully the owl will find a mate and go on to breed to help increase the numbers of this rare species in Scotland."