New move to make money from Scotland's Housing Expo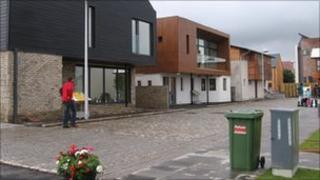 Some properties on the site of an exhibition showcasing innovative architecture have been offered for sale on a shared equity basis.
Only one of 24 homes put on the market following Scotland's Housing Expo held in August 2010 has sold so far.
The expo board's chairwoman, SNP MSP Jean Urquhart, said the housing market was experiencing difficult times.
But she said she was hopeful the new move would see more of the properties on the Inverness site selling.
Scotland's Housing Expo at Balvonie Braes had about 34,000 visitors.
A number of the properties built were rented out following the end of the exhibition and 24 managed by the Highland Housing Alliance (HAA) were offered for sale.
HAA will have to start paying back a bank loan taken out to finance the event by April 2012.
Ms Urquhart said the idea of the exhibition had been to show that housing could be "different and better" and it had succeeded in doing so.
But she told BBC Radio Scotland: "I absolutely accept the challenge that these are difficult times and I appreciate we have got a hard row to hoe between now and next spring.
"I think we have to do everything we can in the immediate future and I certainly will be discussing this with the Highland Housing Alliance."
The MSP and Highland councillor added: "Hopefully if there is a change in the mortgage lending we will see more sold in the future and I would certainly like to see people living in them."
More exhibitions
Properties on the site have been placed on the short-list for the 2011 Saltire Society Housing Design Awards.
The Passive House Terrace by HLM Architects is in the running for best small-scale housing development.
Rural Design's The Secret Garden property has been short-listed in the private dwelling/new build category.
In March, a book about the expo said more exhibitions of its kind should be held in the future.
Publsihed on the Scottish government's website, the book charts the expo's successes and failures before concluding others should be staged.
The conclusion was drawn from positive feedback from focus group meetings with architects and others who visited the site.
More than 77% of respondents to a questionnaire handed out at the event also said they would consider attending a future expo.