Further snowfalls for Scotland's hills and mountains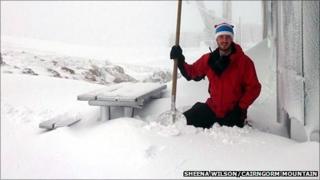 Snow has continued to fall and drift in upland areas of Scotland, but falls have not been of a sufficient depth for skiing or snowboarding so far.
CairnGorm Mountain has posted an image online showing one of its staff in deep drifts at the centre's Ptarmigan building.
Ski resorts in Glencoe and Glenshee and at Nevis Range and The Lecht have also had snow showers this week.
CairnGorm Mountain said last year's ski season started on 13 November.
A spokeswoman said: "We have had a few inches of snow on the upper part of the mountain with drifts of up to three feet around the Ptarmigan building - not enough snow for snowsports yet.
"Last season, skiing at CairnGorm Mountain started on 13 November and over 120,000 skiers and snowboarders enjoyed snowsports in the course of the season."