NHS Highland issue apology for patient's bed sore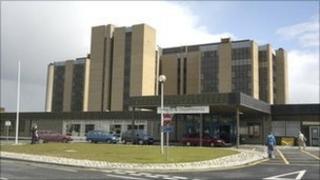 A health board has issued an "unreserved apology" to a patient who developed a large bed sore while recovering from an operation.
NHS Highland said the patient got the pressure ulcer as a result of "sub standard" nursing care at Raigmore Hospital in Inverness last year.
Chief executive Elaine Mead said she deeply regretted the pain and distress caused to the patient.
The case was raised by the Scottish Public Services Ombudsman's Office.
Ms Mead said: "Today we have issued an unreserved written apology to a patient as a result of the poor care they received while in Raigmore Hospital last year.
"I deeply regret the pain and distress experienced because we failed to provide the standard of care required.
"While I welcome the independent review by the ombudsman's office, I am also disappointed that we didn't handle the original complaint as well as we should have, causing further unnecessary upset."
NHS Highland said a "robust action plan" was prepared last year and was now being implemented across its sites.
These include ward rounds by senior nurses to ensure early action to prevent pressure sores and the appointment of a specialist nurse in June 2011.