Nigg yard to be redeveloped, creating jobs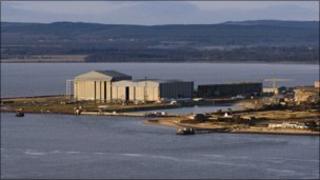 An announcement has confirmed the sale of a former oil rig construction yard in the Highlands for redevelopment, creating hundreds of jobs.
Global Energy Group has purchased the facility at Nigg on the Cromarty Firth from its existing owners KBR and the Wakelyn Trust for an undisclosed fee.
The company intends to develop the 238-acre (96.14 hectares) site as a service hub for the energy industry.
The firm expects to employ 2,000 people by 2015.
First Minister Alex Salmond travelled to Nigg to make the announcement.
He also confirmed funding of £1.8m from Highlands and Islands Enterprise (HIE) - to help transform the site into what Scottish government sources call a "multi-use modern energy park".
Mr Salmond said: "Nigg is an excellent location for offshore oil and gas and renewables manufacturing.
"The scale and water depth here are ideal for fabrication and maintenance of the great electricity devices that will power the economies of the future.
"The sale of the site is something that has been long-awaited and I am pleased it has been secured by an ambitious Scottish company with a strong existing business and a big vision for the future."
Highland Council, which had been pushing for the redevelopment of the yard, has welcomed the announcement.
Planning and development committee chairman Ian Ross said: "It has been a long struggle, but I think we have all recognised how important the site is."
He said the council had worked in partnership with the Scottish government and HIE to secure the yard's future and he praised the "tremendous work" that Global Energy had done itself.
Mr Ross added: "This couldn't have come at a better time for the Highlands economy.
"Even without the recent recession, I think it is absolutely vital and it will create enormous benefits for Easter Ross and the wider Highlands."
The fabrication yard at Nigg emerged during the North Sea oil and gas boom of the 1970s and 80s.
At its height, according to Highland Council figures, it provided 5,000 highly-paid jobs and was worth £100m-a-year to the Highlands economy.
But its success was closely tied to the demand for offshore platforms and most of the site has stood empty since 2002. It was offered for sale in 2005.
Nigg's mothballed state has attracted the interest of urban explorers and photographers who seek out closed down industrial, military and medical sites and document their abandoned interiors.
Highland Council, HIE and the Scottish government, meanwhile, were keen to see it put back into use as a working yard.
The local authority estimated in 2008 that reviving Nigg as a "multi-user industrial facility" could provide an average of 800-850 jobs over 15-20 years.
Highland Council also said a busy Nigg could generate between £60m and £65m a year to the Highlands economy.
The yard's potential for serving Scotland's emerging renewable energy sector was set out in an official planning document published in July 2010 called N-RIP Stage Two.
Its authors HIE and Scottish Enterprise said the site was well developed and the quay and dry dock remained operable, while its largest sheds were in excellent repair.
The site has deep water anchorage, a dry dock along with cavernous fabrication, assembly and warehouse buildings.
'Strategic port'
An oil terminal nearby can handle tankers of up to 160,000 tonnes deadweight tonnage - the total weight of a ship with its fuel, crew and cargo onboard.
US engineering giant KBR had held a lease for the dock and a loading area until 2031 from the Wakelyn Trust.
Energy forum Scottish Renewables has welcomed Global Energy's announcement.
Johanna Yates, offshore wind policy manager, said: "The Nigg yard is based at a strategic port for Scotland's wave, tidal and offshore wind industry because of its access to the Pentland Firth and east coast offshore wind sites.
"It has a successful track record manufacturing vital components for the industry including, amongst others, the turbine foundation for Atlantis' AK1000, the world's largest tidal turbine, which is now generating electricity at the European Marine Energy Centre test site in Orkney."
Liberal Democrat MP for Caithness, Sutherland and Easter Ross, John Thurso, and SNP MSP Rob Gibson, who represents Caithness, Sutherland and Ross, have also welcomed the purchase.