Nigg - the yard sale in a land of giants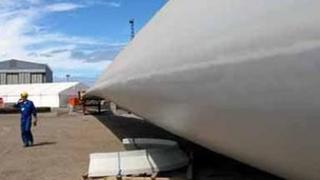 Laid on the quayside at Nigg on the Cromarty Firth was a giant's "sword".
According to legend, a giant lived on each of the two distinctive headlands that mark the entrance to the firth.
Called North and South Sutor, the gargantuan shoemakers shared tools by throwing them to each other across the narrow channel between the headlands.
The pair also watched over the small village of Cromarty, which lies opposite Nigg.
Stretching to 63m (206ft) in length and with sleek lines ending in a point, the huge blade on the quayside could have been one of the shoemakers' weapons for defending the community.
The long object was, in fact, one of a set of blades for two experimental offshore wind turbines being assembled at yard for delivery to the Beatrice oil field in the Moray Firth.
The renewables project in 2006 could prove to be a taster for the kind of work that may follow Global Energy Group's takeover of the Nigg.
The Scottish government has set a target for renewable sources to generate the equivalent of 100% of Scotland's gross annual electricity consumption by 2020.
The Crown Estate, which owns the seabed off Scotland, has now reached agreements with renewable power developers for 30 offshore sites.
All this could mean components for offshore wind turbines and also massive wave and tidal power devices could become a common sight at Nigg.
The yard was built on a grand scale in the 1970s.
It has 725m (2,378ft) of quayside with loading areas able to handle up to a total of 1,000 tonnes of materials.
The site has a 17,000sq m (182, 986sq ft) area designed for fabrication work, 17,000sq m for the assembly of oil rigs and also has 22,000sq m (236,806sq ft) of warehousing.
Work now planned following Global Energy's announcement could rouse this sleeping giant back to life.