Dog lost at Loch Glascarnoch reunited with owner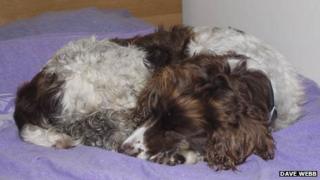 A hillwalker has been reunited with his dog after it was lost for four nights in the mountains near Loch Glascarnoch between Inverness and Ullapool.
Dave Webb, from Muir of Ord, was descending the Munro, Am Faochagach, when Sam, one of his two springer spaniels, went missing.
An appeal on a walkers' online forum prompted two people from Lanarkshire to travel to the area to look for Sam.
Mr Webb eventually came across the dog on a path near the loch's west side.
And just days after being reunited Mr Webb was involved in a search for a friend's dog that had been missing for five nights.
The friend found his dog on Wednesday.
Loch Glascarnoch made the news last year as the coldest place in Scotland, at -15.3C (4F) during a record cold November night.
Sam disappeared on 12 October and went on to spend four days and nights in the hills.
Mr Webb said: "On the descent both dogs went off the west side but only one came up.
"Being springer spaniels they can go a bit 'deaf' when anything grabs their attention.
"I never thought any more of it and heard Sam barking in front as I descended although I couldn't see him."
But Sam failed to reappear at Mr Webb's side or at his car where it was parked.
The dog was spotted by a lorry driver on the night he disappeared, but Mr Webb blamed his dog's "grumpiness" for him not going with the driver who went on to report his sighting to the police.
Mr Webb made repeated visits to the area in the hope of finding Sam.
His online appeal led to 85 postings on a walkers' forum and he received text messages from strangers saying they would keep an eye out for Sam.
Offers of help in making searches came from walkers living in Falkirk and elsewhere.
Mr Webb said: "I had a fellow walker drive all the way from Lanarkshire with his two dogs to search and another lady who searched the roads.
"I found him on the Sunday after four days and nights.
"He was still sniffing and nosing about for the first part of the walk back, but then his pace dropped to a plod by my side."
Sam was tired and hungry, but otherwise unscathed from the experience.