RNLI approve year's trial of lifeboat for Harris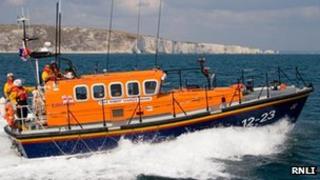 A lifeboat will be introduced on Harris in the Western Isles after the RNLI announced plans for a year-long trial.
A Mersey class lifeboat will cover an area of sea which is located about two hours away from the nearest station at Stornoway on Lewis.
The RNLI will gauge the success of the Leverburgh trial before consideration is given to setting up a permanent station.
The boat and crew should be in place next year.
Scotland's last new lifeboat station was created on Loch Ness in 2008.
A local campaign had called for a boat and crew for Harris.
Hamish Taylor, chairman of South Harris Community Council, said it would fill a gap in coverage in the Western Isles.
'Casualty potential'
The RNLI said it had not yet set a start date for the 12-month trial.
Volunteers have come forward to crew the lifeboat, operate the station and raise funds for the station's operating costs.
Michael Vlasto, the RNLI's operations director, said the station would cover the challenging waters of the Sound of Harris and the Minch.
Paul Jennings, divisional inspector in Scotland, added: "We have been looking at this idea for some time.
"This decision is about us providing a level of support to an exposed and isolated community where the casualty potential warrants the establishment of an all-weather lifeboat station.
"We hope that people will continue to step forward to volunteer for their local lifeboat and make the trial the success it deserves to be."