Plans for a giant solar energy farm on Lewis abandoned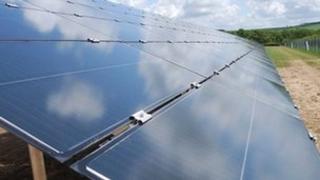 Plans to harvest the sun's energy by erecting 25,000 solar panels on the isle of Lewis have been abandoned.
The scheme, covering 11 acres (4.45 hectares) at Arnish Moor, would have generated five megawatts of electricity for nearby industrial sites.
Local planning contractors said developer Gary Shepherd had told them it was cancelled, due to delays and government cutbacks.
The scheme had already been given preliminary regulatory approval.
Mr Shepherd, of Surrey-based NGN Telecoms, had obtained a 25-year agreement in principle with the Stornoway Trust to develop a solar energy scheme on moorland three miles from Stornoway.
The site was chosen because it was located in a natural basin on land with no crofting rights that was unsuitable for agricultural use.
The energy generated would have been used by firms at the Arnish industrial estate and Creed business park.
A public consultation was due to be held before a formal planning application was lodged.
It is understood that a public meeting scheduled for June, never took place.