Nasa space suit material to insulate Scottish rail gear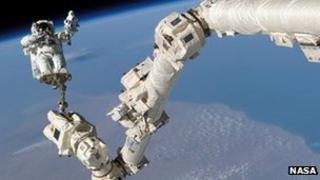 Nasa-grade material used for astronauts' space suits will protect railway track equipment from freezing this winter, Network Rail has said.
Insulating points machines in Scotland with the high-tech material is among new measures announced by the company.
A £1m winter-weather engineering train will also be used to defrost key junctions during periods of prolonged sub-zero temperatures.
A helicopter with thermal imaging gear will also check worst affected lines.
Transport Minister Keith Brown said the Scottish government was working with Network Rail and ScotRail to minimise disruption this winter.
ScotRail announced a £2m package of winter measures last week.
David Simpson, Network Rail route managing director for Scotland, said the company was planning for the possibility of severe weather.
He added: "We are also introducing a wide range of new equipment and working methods after reviewing how the severe, prolonged snowfalls of last year affected the railway.
"We are confident that the Scottish rail network will be as well prepared as possible for another severe winter."
The space suit material will be used to insulate the inside of points machines to help prevent water building up or freezing inside them.
Points are sections of track that can be moved to allow trains to pass from one line to another at junctions or on the approaches to stations.