MCofS joins opposition to Cairngorms park plan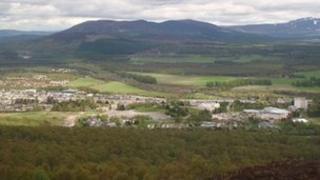 A body representing the interests of hillwalkers and climbers has backed a campaign opposed to a plan for new housing developments in the Cairngorms.
The Moutaineering Council of Scotland (MCofS) has called for donations to help the Cairngorms Campaign mount a legal challenge.
The potential court action would oppose the adoption of the Cairngorms National Park Local Plan.
A park boss said the plan promoted sustainable communities and wildlife.
The local plan includes provision for 1,500 properties at An Camas Mor and 450 homes at other sites.
A consortium, led by Rothiemurchus Estate, is planning to build the homes and other community facilities at An Camas Mor, near Aviemore.
In June, Elgin-based Springfield Properties was chosen to deliver the first phase comprising 80 affordable homes, 95 homes for private sale and 25 self-build plots and community services.
Campaigners have been concerned by the scale of the housing projects.
The Scottish Campaign for National Parks and Badenoch and Strathspey Conservation Group have already backed the Cairngorms Campaign.
The charity hopes to lodge a challenge to the local plan in the Court of Session in January 2012.
Cairngorms National Park Authority (CNPA) planning committee chairman Duncan Bryden said planners took into account a wide range of views expressed during periods of consultation.
He said: "The plan promotes sustainable communities while conserving and enhancing the natural and cultural heritage of Britain's largest national park.
"The proposed new community at An Camas Mor is an integral part of our strategy to focus growth where it can best be accommodated, and where the communications and infrastructure mean that future development can be as sustainable as possible."
He added: "An Camas Mor has been recognised by the Scottish government as an exemplar project for 21st Century sustainable living that is designed and built to last and where a high quality of life can be achieved."