'Old school' engineers important to Dounreay, says boss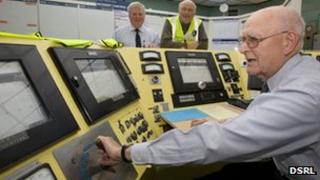 A £2.6bn project to demolish Dounreay should be completed in the lifetime of the engineers who built and ran it, one of the project's leaders has suggested.
Mike Brown said retired employees' knowledge of the nuclear plant was crucial when records did not reflect what contractors were encountering.
He highlighted the role of "old school" engineers in a tribute to Jon Kirk.
Mr Kirk, who started work at Dounreay in 1956, continued to be sought for advice until he was 83.
Buildings and reactors built at the site in Caithness during the 1950s and in following years are to be demolished by 2032.
Mr Kirk had worked on the Dounreay Fast Reactor (DFR) from its construction until he retired at 65 in 1986, before returning to the plant as a consultant three years later.
He died in September this year.
In paying tribute to Mr Kirk, reactors decommission manager Mr Brown said: "He worked for me, under contract, until he was 83 years old, providing a wealth of information and support for the decommissioning teams.
"If drawings did not reflect the current condition of the reactor, Jon would remember the changes that had been made and always kept us on the straight and narrow."
Mr Brown added: "Clearly from the old school of engineers, Jon is a clear example of why we need to decommission plant promptly while the knowledge is still available.
"A great engineer from a bygone era."
New owners
Former employees have previously been brought back to the plant to help identify electrical cabling.
A new phase of the clean-up is set to start on 23 November when the new owners of the company leading the project will be announced.
Dounreay Site Restoration Limited (DSRL) is currently owned by UKAEA.
DSRL managing director Simon Middlemas said he would expect the new owners to have a "new vision" and their own ideas on how to progress the work.
He had told staff the changeover was unlikely to happen until April next year.