Dog stabbed to death then buried in Inverness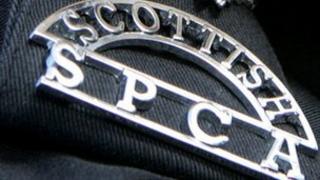 A dog was believed to have been stabbed to death and then buried in a shallow hole in Inverness, the Scottish SPCA has said.
The dog was a young male black and white Staffordshire bull terrier cross.
A member of the public contacted the police after uncovering the dog's body near Assynt Road in Kinmylies on 4 November.
The SSPCA said two men were seen in the area carrying a bag and a spade earlier that day.
SSPCA chief inspector Iain Allan described it as a horrific incident.
He said: "Police discovered the dog in a shallow grave which was covered by a wooden pallet.
"This was in a small wooded area, close to a residential part of the city.
"If these men hadn't been noticed there is a good chance no one would have ever found this poor dog."
Northern Constabulary said one of the two men being sought was described as being between 35 and 45 years old, 5ft 10in, of medium build, bald and was wearing a blue t-shirt.
The second man was described as being aged between 35 and 45, 5ft 10in, medium build and was wearing a black jacket. He also had shoulder length hair tied back in a pony tail.