Children in Need: Wick Take That tribute to raise funds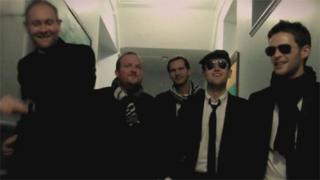 Sixth year students and teachers at Wick High School have taken inspiration from Take That to create a fundraiser for Children in Need.
They have filmed a mockumentary and a music video for their fictional group Take This to encourage parents, pupils and staff to donate to charity.
The film is being promoted on Twitter, Facebook and YouTube.
Rector Tom McIntyre said the teachers were being seen in a different light following their performances.
In pyjamas
Mr McIntyre, who also appears in the music video, said he was impressed by the effort pupils Mikie Henderson and Matthew Thain put into making and shooting the films.
The music video sees teachers Chris Aitken, Johnny Broad, Seb Sandecki, Grant Mackenzie and Stuart Tait singing as they walk corridors of the Caithness school.
Teachers Carrie Rathie and Lillian Orton were also involved in its production.
Wick Youth Club offered its studio for scenes in the mockumentary.
Mr McIntyre was aiming to raise further funds for Children in Need by walking eight miles to school in pyjamas.