Achiltibuie site community buy-out falls through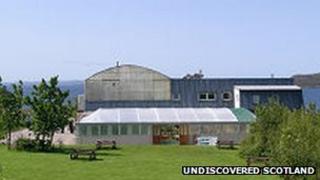 A community buy-out of a site where bananas, cactuses and other exotic plants were grown in Wester Ross has fallen through.
Coigach Community Development Company had hoped to take over the former Achiltibuie Hydroponicum greenhouses and surrounding land at the weekend.
But the company said the site's sellers pulled out at the last minute.
Set up in the 1980s, the greenhouses had provided fresh produce for the nearby Summer Isles Hotel.
Plants were grown without soil using a method called hydroponics and attracted up to 10,000 visitors a year until the site was sold in 2007.
It was understood the Isle of Man-based company that owns Achiltibuie Hydroponicum had been prepared to sell under the Scottish government's community buy-out scheme.
Funding had been secured from Highlands and Islands Enterprise (HIE), along with a loan from Highland Opportunity Ltd.
Tropical island
Coigach Community Development Company said hopes of a new future for the site had been dashed.
Chairman Iain Muir said it had been planned to turn the greenhouses into workshops and use the surrounding land for affordable housing.
He said: "We're really disappointed and it's a blow to our hopes and aspirations.
"The community desperately needs housing and workshops and this looked like a real opportunity for us to help secure our future.
"Everywhere we turned we got support for our plans to buy the site."
Achiltibuie Hydroponicum was built by Robert Irvine, a 1960s film director who owned the Summer Isles Hotel.
His daughter, novelist Lucy Irvine, wrote Castaway having spent a year in self-imposed isolation after answering a writer's advertisement to be his "wife" for a year on a tropical island.
The book was turned into a film starring Oliver Reed and Amanda Donohoe.
Mr Irvine's son Mark later ran the hotel before the family sold it.
HIE said Coigach Community Development Company's project had the potential to deliver its aims.
A spokeswoman said: "It is very disappointing for the local community, particularly given the hard work which goes into preparing for a community buy-out."